Physician License Defense and Representation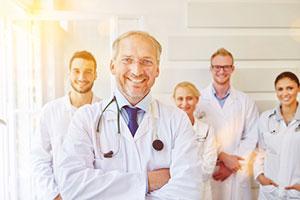 Texas physicians/doctors facing a complaint or investigation by the Texas Medical Board, any local, state or federal law enforcement, or any state or federal regulatory agency may be subject to a license probation, suspension or revocation. If so, it is important to seek the assistance of an experienced and aggressive attorney to protect your interests when facing any type of licensing board, hospital disciplinary actions, or any potential Medicare or Medicaid criminal or civil fraud recoupment or overpayment action, or charges of other criminal conduct.
Examples of Cases that the Law Offices of Bridget Eyler Law Office assists physicians with:
Medical Board Licensing Investigations
Formal Board Complaints
Medicare and Medicaid Fraud
Insurance Billing And Coding Disputes
Documentation disputes
Licensing Board Applications
License Reinstatement
Chemical Dependency and Impairment
Medicare and Medicaid Civil Recoupment Actions
Insurance Overpayment Issues
Medicare and Medicaid Appeals (overpayments)
Disciplinary Hearings
Drug Enforcement Agency (DEA) Registration Reinstatement
Hospital Peer Review Representation
Criminal Defense
If you are a physician or other healthcare professional seeking aggressive high-quality legal representation, we encourage you to contact The Law Offices of Bridget Eyler at (214) 540-7750- or email us.
Do I Really Need an Attorney?
Attorney representation is not a requirement by the Texas Medical Board, but in today's world with all of the federal and state laws, rules and regulations that govern medical and healthcare occupations it is very important for a physician/doctor to seek experienced legal counsel to ensure that their rights are preserved. After all, your Texas medical license may be on the line and so is your livelihood.
Please know that it does not make you look guilty to have an attorney. You can inadvertently make statements against your own personal interests without realizing you are doing it. You should do everything in your power to protect your rights as the Texas Medical Board is not there to do that for you. If you are being investigated or questioned by either your current employer or any law enforcement or administrative agency, hiring an attorney is the smart thing to do. You need an advocate on your side to ensure that you are protected.
Remember that the Texas Medical Board is a state administrative agency, and even though they may appear to be there to represent you, their main purpose is to regulate the practice of medicine and protect the public. In other words, blindly answering questions without proper guidance, could potentially affect your ability to continue your current livelihood as a physician/doctor. Again, a Texas physician/doctor should have an attorney familiar with professional license defense, and who can advocate and protect their best interests, their license and career.
If you are licensed by the Texas Medical Board in any of the following occupations: Licensed Physician, Physician Assistant, or Acupuncturist, or a graduate resident or fellow, and any of the following scenarios apply to you, contact Eyler Law Offices at (214) 540-7750, or email us, to seek legal counsel and protect your license:
A Texas Medical Board investigator or any investigator (including law enforcement agencies, hospital police, or your human resource representative) contacts you and wants to discuss a complaint filed against you;
A Texas Medical Board investigator requests to conduct a telephone interview of you regarding a complaint filed against your medical license;
Your Texas medical license has been suspended and you need guidance understanding the terms and conditions of getting it reinstated;
An actual formal investigation is pending against your license with the Texas Medical Board;
A hearing is scheduled before the Texas Medical Board is due to a complaint filed against your license;
You are planning to self-report (or someone has told you to report) to a Texas Medical Board for Alcohol/Chemical Dependency;
The Texas Medical Board has asked you to sign a Consent Agreement, Consent Decree, or an Agreed Order and you need help understanding the terms and conditions and how the document will impact your medical license and your medical career;
You received a letter from your current or past employer or colleagues requesting you to "self-report" an incident to a Texas Medical Board;
The Texas Medical Board requests you to provide a written statement to the Board regarding the allegations in a complaint filed against you;
You were terminated from your employment and informed that you are being reported to the Texas Medical Board for allegedly violating the Medical Practice Act and/or Board rules/regulations;
Again, if you have been contacted by the Texas Medical Board and/or local, state, or federal enforcement, or your employer, and you are being "encouraged" to admit responsibility, liability or guilt to any act, or confess to criminal conduct, it is very important for you to seek legal counsel. It is imperative for you to invoke your right to legal counsel and contact an attorney before you answer any questions or provide a written statement to your employer, law enforcement or any regulatory agency, and/or the Texas Medical Board.
Any criminal conviction, regardless of the level of the offense e.g. misdemeanor or felony, or whether it was committed on or off the clock, will more than likely have an extremely negative impact on your medical license and career.
Investigations and Complaints
Disciplinary investigations, actions, and orders sought and issued against physicians/ doctors by the Texas Medical Board (TMB) have increased dramatically over the last few years. Physicians may find themselves facing many different complaints/investigations; a standard-of-care complaint, chemical dependency, sexual boundary violations, non-therapeutic prescribing, the failure to maintain adequate charts and records, medical necessity of services, and/ or the commission and conviction of any crimes. If you are a physician and find yourself as part of a misconduct investigations and/ or disciplinary proceeding, you may be faced with a lengthy disciplinary order and probated suspension.
Investigations are often initiated by a letter from the Texas Medical Board and followed with a phone call from a medical board investigator. If the Texas Medical Board (TMB) contacts a physician in this or any other manner, it is wise for the physician/doctor to consult with an attorney before responding to the TMB investigator. It is never advisable to meet with or be questioned by a Texas Medical Board investigator without legal advice and counsel. In addition, once legal counsel is retained, the TMB's investigators are prohibited from contacting and questioning a physician directly.
When a physician is contacted by local, state or federal authorities relating to a Medicare, Medicaid, or other federal or state reimbursement insurance plans or programs, they should immediately consult with legal counsel, as this is often a heads up or forewarning to the filing of criminal charges and/or a criminal prosecution.
Eyler Law Offices provides quality representation and licensure defense and advocacy to physicians/ doctors faced with disciplinary actions by a state board licensing agency, a hospital or medical staff peer review committee, a compensation commission, or a criminal district attorney's office or prosecuting entity. Whether you are a physician accused of misconduct, drug diversion, billing fraud, neglect, or being chemically dependent, we will aggressively, yet carefully and diplomatically advocate for you and your medical license / physician registration in a careful, fervent, conscientious, and considerate manner.
If you are in danger of losing your medical license, the Law Offices of Bridget Eyler may be able to help you. To discuss your case please contact us today by calling (214) 540-7750 or email us.
Billing / Coding and Documentation Fee Disputes and Practice Policy and Various Other Medical Practice Disputes
Although the Texas Medical Board may have not have historically addressed fee and/or billing and coding disputes, poor medical documentation, issues related to general business practices and policies, and/or personality conflicts, a complaint about these types of issues can prompt an investigation by the Texas Medical Board and can often times start a board inquiry into any other related matters. Therefore, you should always take these complaints seriously and retain an aggressive and experienced attorney to defend you before the Texas Medical Board.
Although billing and coding and fee disputes have not historically been within the attention of Texas Medical Board, the Board can discipline a physician if there is a complaint by Centers for Medicare and Medicaid Services (CMS), Health and Human Service- Office of Inspector General (HHS-OIG), Texas Department of Insurance, or any private healthcare insurance carrier (Blue Cross Blue Shield, United, Aetna, Golden Rule, etc.) of improper billing or coding, or if fees include billing for medically unnecessary services. These cases can sometimes also open a Texas Medical Board inquiry into the physician's medical treatment of the patient and the sufficiency of the patient's documentation in medical records.
Texas Medical Board cases are generally opened upon the filing of a complaint. Complaints can be filed by any member of the general public – a patient, a former patient, a member of a patient's family, an employee, a former employee, an insurance company or any business who transacts with the physician. If the complaint involves a serious violation (for example, an allegation that the physician is impaired to practice medicine due to drugs or alcohol, an allegation of sexual misconduct, and/or improper prescribing), the case may immediately assigned to an investigator employed by the Texas Medical Board.
Eyler Law Offices can assist physicians with questions related to any billing and coding issues, overpayment issues, any medical insurance billing dispute or any practice policy disputes.
There are times when a medical office or physician may need to conduct a self-audit to ensure compliance with billing and coding issues, or with the self-reporting of billing errors that could be problematic in a later Medicare or Medicaid audit. At Eyler Law Offices we can provide you with the billing and coding services necessary to help you clear up billing/coding and documentation disputes and overpayment issues.
Accused of Substance Abuse or Diverting Controlled Substances (Narcotics)?
At the Law Offices of Bridget Eyler we are often contacted by physicians and other licensed (certified) health care professionals, who have been falsely accused of diverting narcotics, abusing narcotics, or stealing controlled substances (narcotics) from patients and/or their place of employment. It is not uncommon for a physician or any health care professional to be accused of a substance abuse problem or diverting narcotics. It is a charge that should be taken very seriously. We have represented physicians and other healthcare professionals who have been fired by their employer for allegedly abusing or diverting controlled substances (narcotics), and reported to their respective regulatory board, e.g. Texas Medical Board, Texas Board of Nursing, Texas Board of Pharmacy, etc., and/or to local or state law enforcement for criminal investigation/prosecution. Even if no criminal charges were filed, the investigative report can cause problems for physicians/doctors with the medical board and you still have your medical license to protect. We provide legal representation to physicians/doctors in a variety of situations. If you are accused of diverting drugs by writing or obtaining fraudulent prescriptions for controlled substances (narcotics or dangerous drugs) for yourself or a family member or friend, diverting from a Pyxis machine, Diebold, or other brand of automated pharmacy dispensing machine, please contact Eyler Law Offices at (214) 540-7750 or email us, immediately.
Professional Practice Issues and Physician Contract Review
There are many facets of professional practice that demand the attention of a well-qualified healthcare attorney. Physicians managing a professional practice may need assistance with employment or various other contract issues, or advice on how to respond to a patient complaint. A physician or other healthcare provider should always have a legal professional review any employment contract or provider contract.
Criminal Charges
A physician who is under investigation or who is accused of any criminal activity, even a misdemeanor, may potentially face a medical board investigation. Criminal convictions that seem unrelated to the medical practice still may create licensure problems for physicians/ doctors. Some criminal charges such as theft, shoplifting, forgery, criminal mischief, criminal trespass, assault, or driving under the influence (DWI), may seem minor but can create permanent professional damage.
At Eyler Law Offices we are equipped to handle both sides of the matter, the criminal proceeding and the administrative/regulatory side with the Texas Medical Board. Keep in mind that many criminal lawyers who advise a physician to accept a plea agreement or deferred adjudication may not be experienced enough to counsel or advise a physician/doctor on how a plea agreement can impact a medical license or the future of your medical career. Any plea agreement, whether it is a probation or deferred adjudication, could potentially trigger a Texas Medical Board investigation and potential disciplinary action and/or suspension or revocation of your medical license. Eyler Law Offices is highly qualified in handling both the criminal investigation and/or case and the medical board complaint or investigation. With Eyler Law Offices handling both sides of your case you can feel confident that your rights in bo th the criminal and the administrative/regulatory case with the medical board will be fully protected. Call us at (214) 540-7750, or email us to discuss your case.
HIPAA – Privacy Violations
Federal HIPAA violations, state privacy laws and institutional policies all address patient privacy rights. Physicians and other health care professionals accused of violating these rights can potentially face legal problems that could involve adverse employment actions, civil lawsuits, medical board disciplinary action or even criminal charges. Some typical scenarios involve when a physician inappropriately accesses and/or discloses personally identifiable health information. All physicians should be ever vigilant to know and understand privacy policies for caring for high profile patient cases, celebrities or co-workers as patients, or any type of patient case.
HIPAA Violations and Social Media (Facebook, Twitter, …)
Another huge potential liability for physician and other medical professionals is the inappropriate use of social media and social networking. Physicians should never take photos or write any personal information about any patient on Facebook, Twitter, or any other internet web site for that matter. If a patient posts something on their Facebook or Twitter account, a physician/doctor should not take this to mean that the patient is waiving his/her privacy rights. And a physician should not "friend" patients on Facebook or respond to any patient postings as this too can get a physician into trouble with the medical board. Physicians/doctors need to keep in mind if they participate in any social media, the information travels very wide and far and becomes a permanent piece of information that can come back and haunt them for the rest of their career.
If you are a physician or other health care provider who has been accused of a HIPAA privacy violation, it is important for you to immediately seek experienced legal counsel who is experienced in this very intricate area of law. At Eyler Law Offices, we have the experience to help physicians/ doctors and other health care providers with any potential legal issue. Call us at (214) 540-7750, or email us for a free initial consultation.
Contact Us
1

Free Consultation

2

Available 24/7

3

We Will Fight for You!
Fill out the contact form or call us at
(214) 540-7750
to schedule your free consultation.